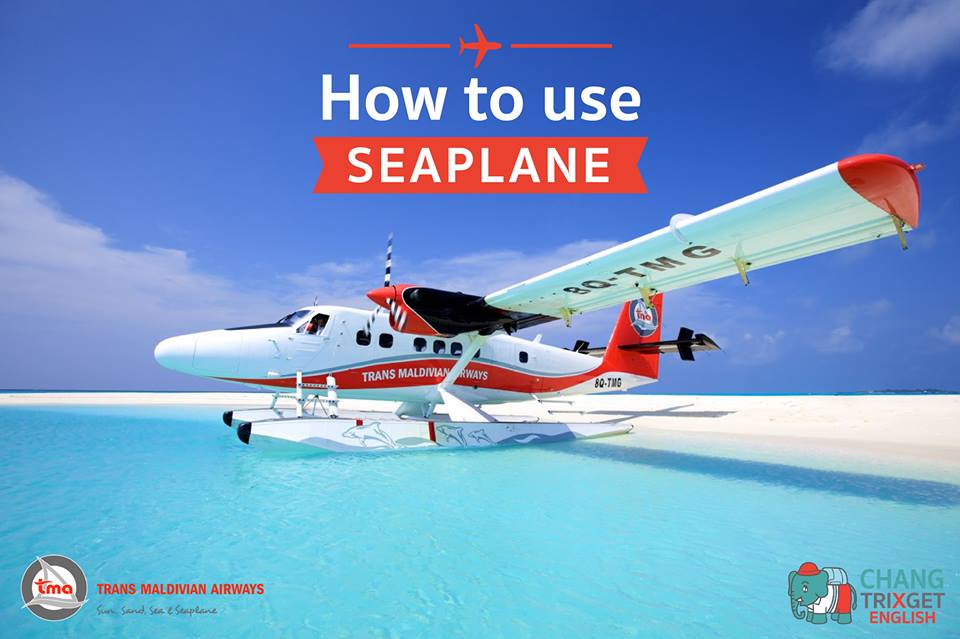 Using SeaPlane at Maldives should try once a life!!! 

🛩 

Let's open to new experience with first review with Seaplane of Trans Maldivian Airways which use the sea to be runway instead of road !
🛄 ChangEng recommend Seaplane if you go to Maldives first time. You will get full atmosphere and experience.
Some of you may confused because Seaplane cannot book by yourselves on website. You have to book through the hotel that you reserved the room. Moreover, some people still confused where should check-in or meeting point for Seaplane
🔆 Come with me! Today ChangEng will let you know how to use Seaplane..
>>Let 's see how to use Seaplane to hotel or resort in Maldives
Credit: TMA transmaldivian.com
Airplane model : De Havilland DHC-6-300 Twin Otter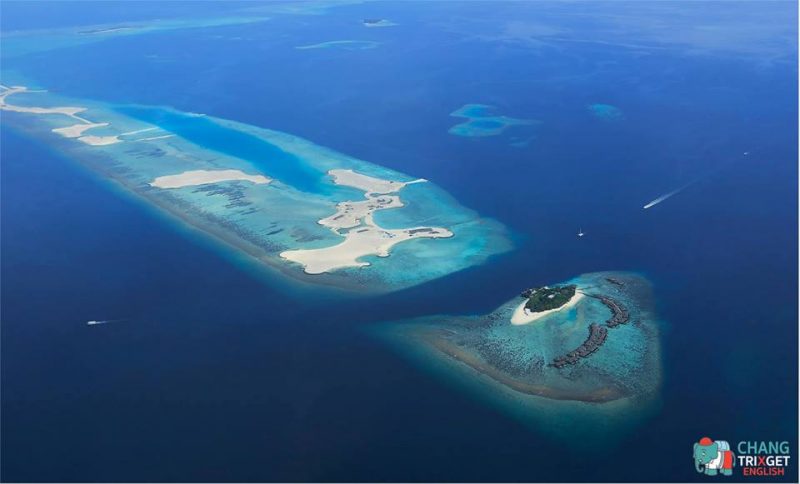 :WOW! View that you see from Seaplane 
😮
😮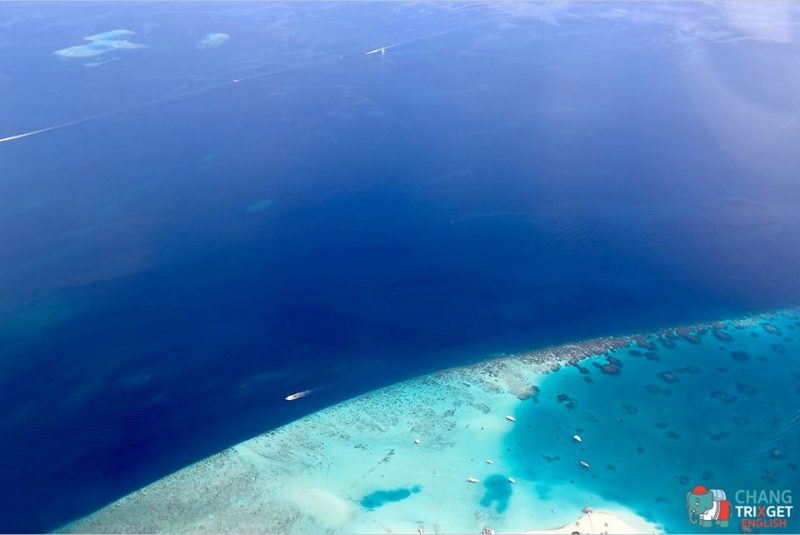 :
💙 Dark blue Atoll can tell the depth of the water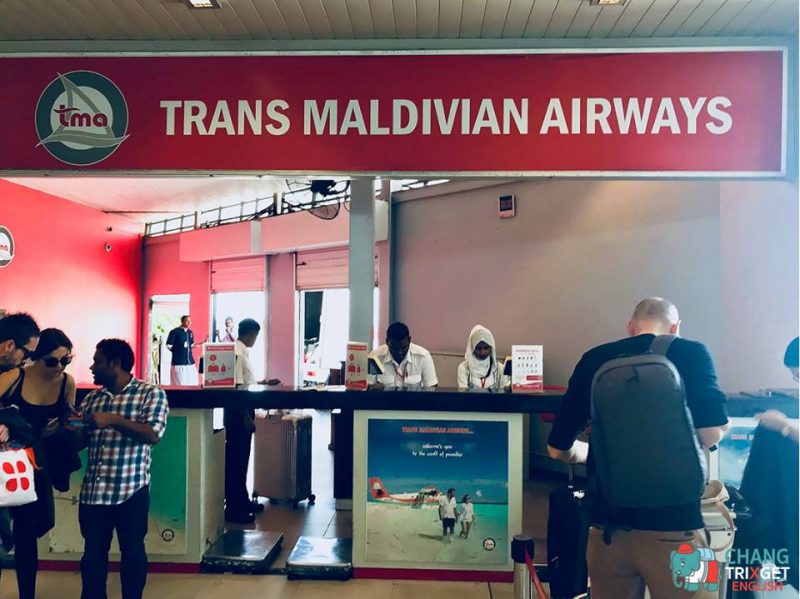 :
After booked the hotel, you should contact hotel before check-in around 3-5 days in order to give flight information to the hotel
Basic information that hotel would like to know :-
1. Arrival Time
2. Departure Time
When you arrived Maldives, you go to counter of hotel that you booked. Hotel person will lead you to Seaplane's counter as this photo
Now, main service airways is TMA. Checked baggage 20kg and Cabin baggage not exceed 5kg per 1 person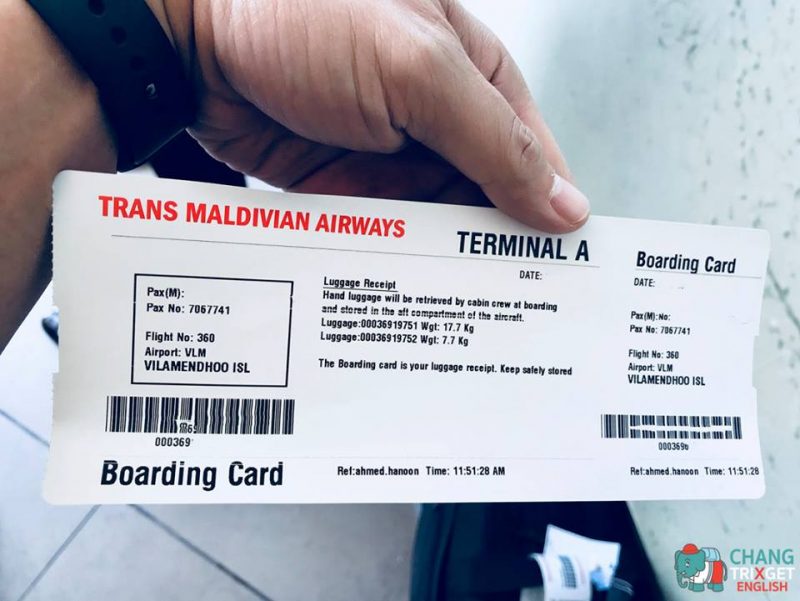 :After finished check-in and loading baggage, you will received boarding pass as usual airlines. But you don't need to pay the money yet, the hotel will charge this cost to you directly.
Normally, ticket price of Seaplane round trip will around 250 – 5xx USD depend on distance of hotel (some hotel will give 50% off for children)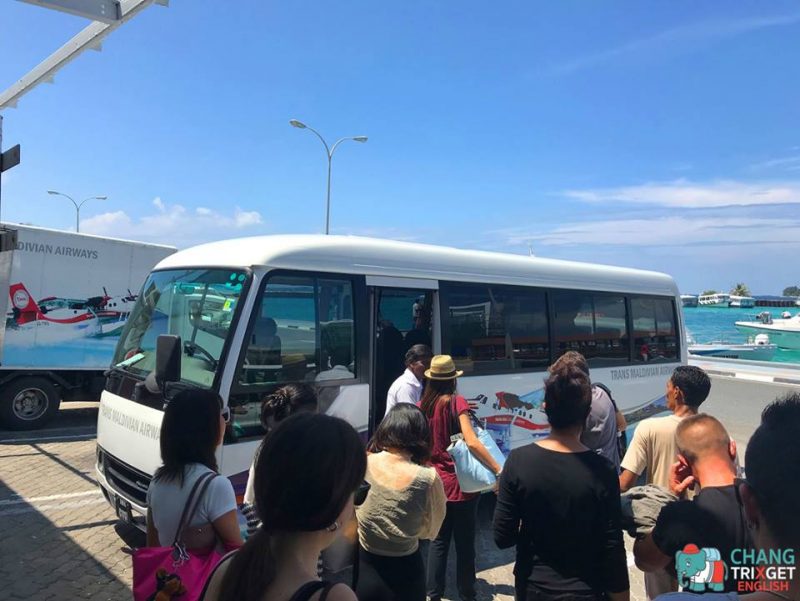 :Next, Airlines will lead you to Seaplane Terminal which location will next to airport. If you booked with big hotel, they will provide hotel bus for this point.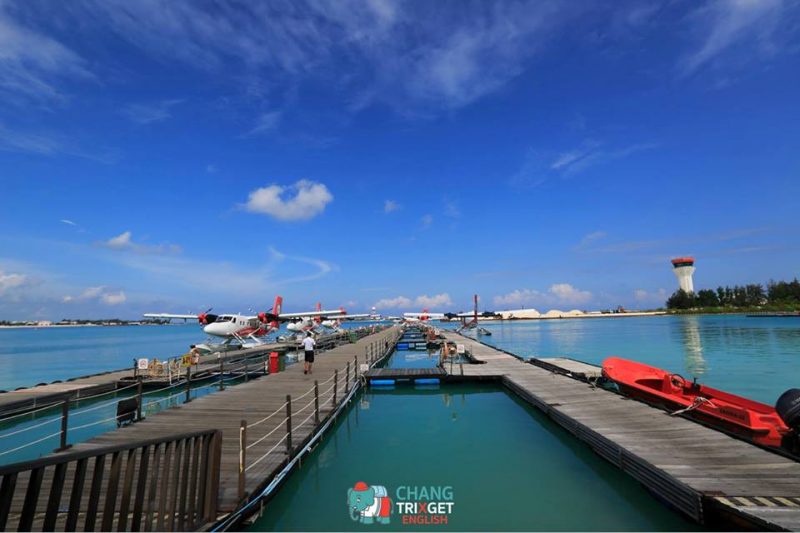 :For Seaplane Terminal, There are a few gates. Some hotel will have own lounge for their customer. When arrive time, staff will lead to the gate.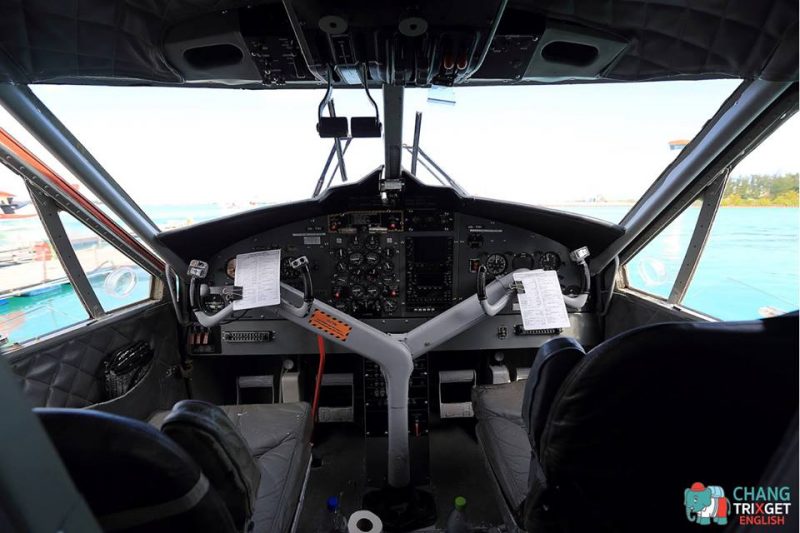 :Recommend to get on the plane first because you will cannot take photo. Due to size of airplane will not comfortable.
:The seat will be 1-2 seats.
For outbound flight, I recommended to sit left in the front since the plane will fly through Male City on the left.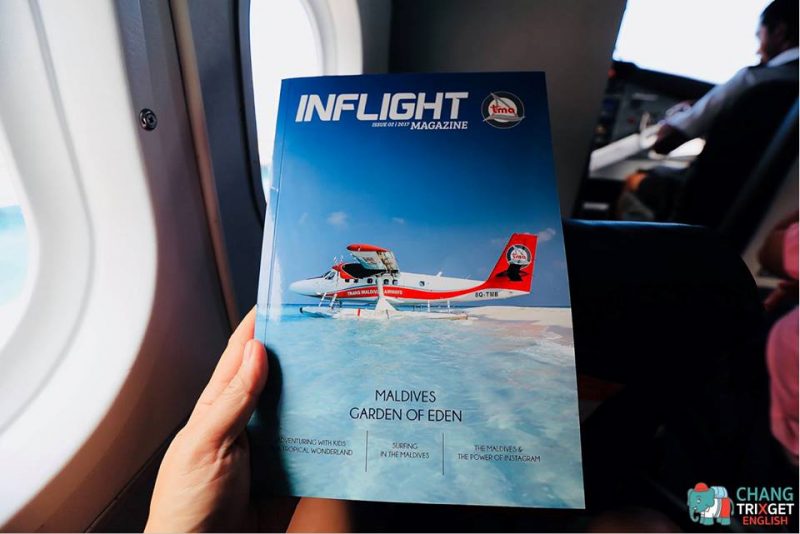 :Inflight Magazine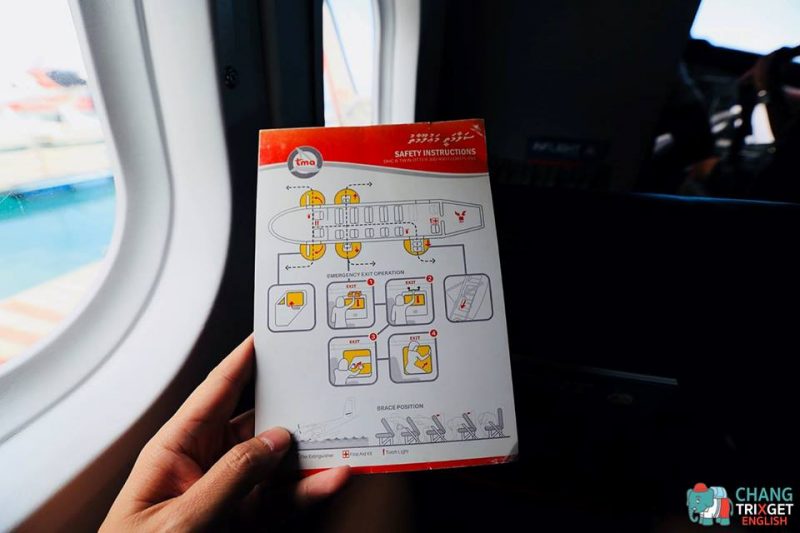 :Seating arrangements. The baggage will be brought up to the rear load.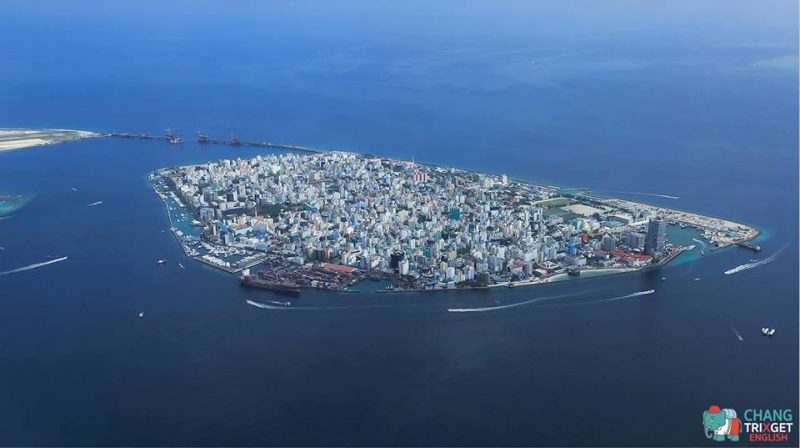 :View from left front seat. 
😍
😍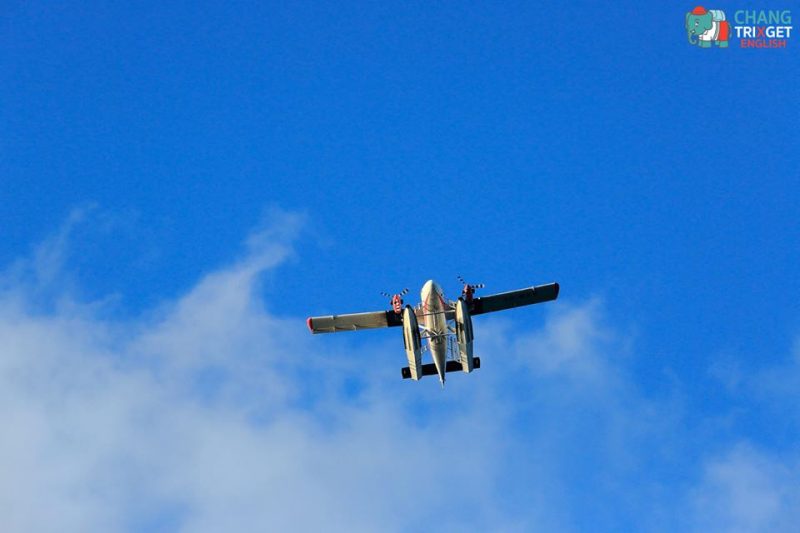 :Seaplane have many flights per day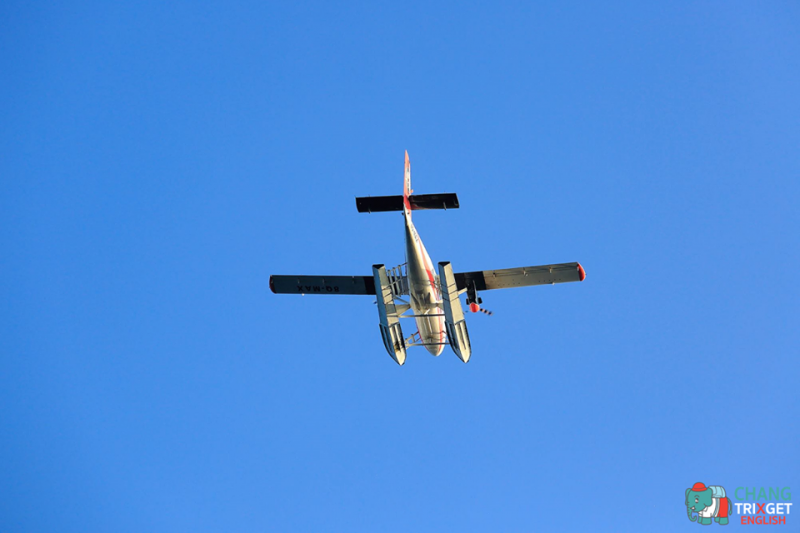 :Blue sky with sunny 
☀
☀
☀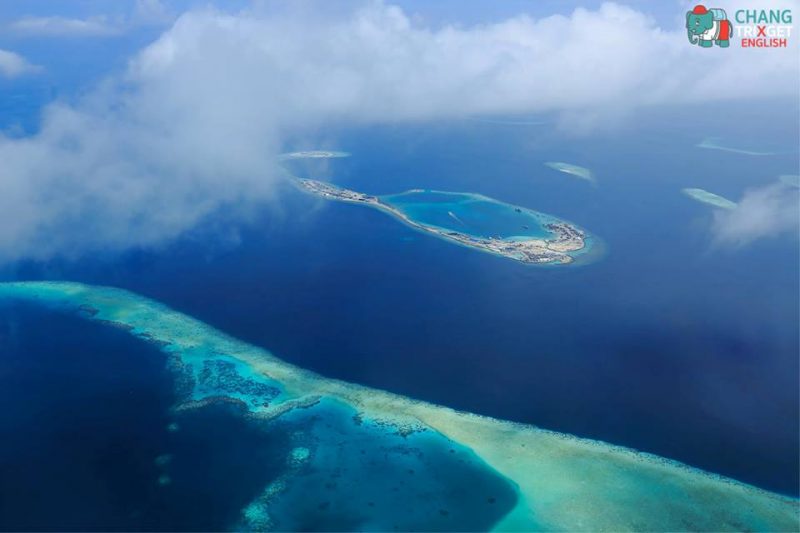 :This view I taken from outbound flight in left front seat.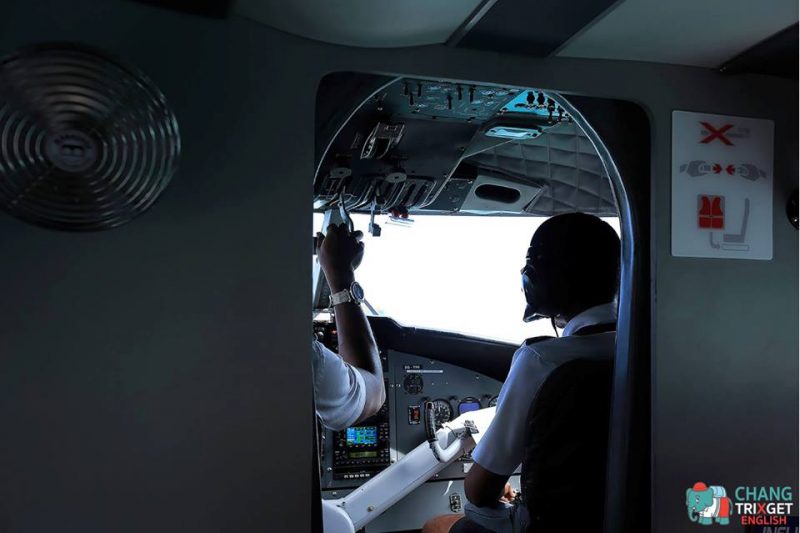 :My pilot for this flight. 
👨‍✈
👨‍✈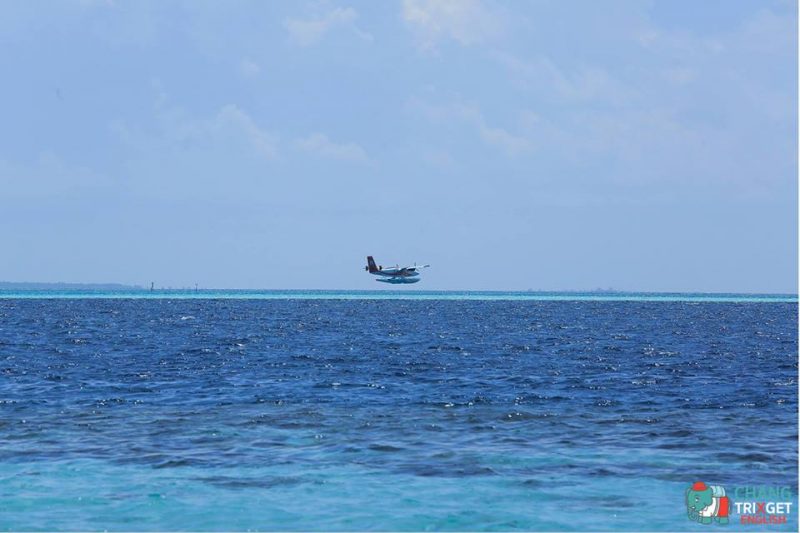 :Your camera should ready for good view on arriving time.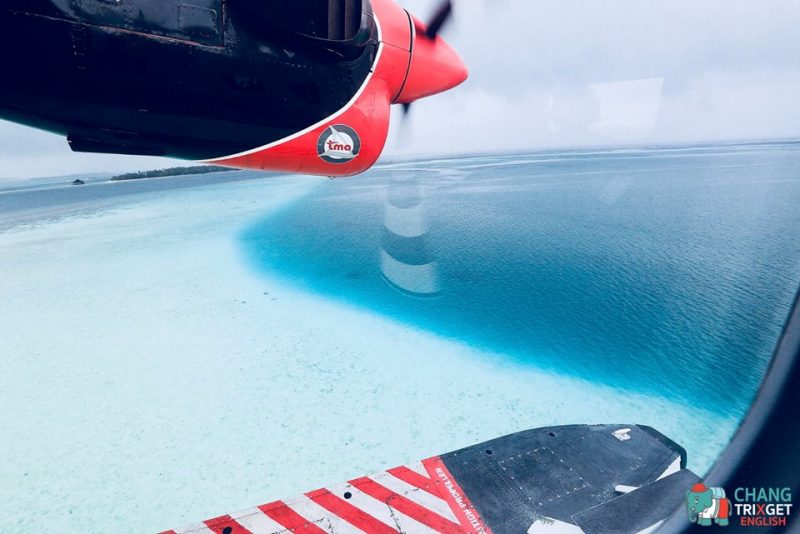 :Arriving time 
🛬
🛬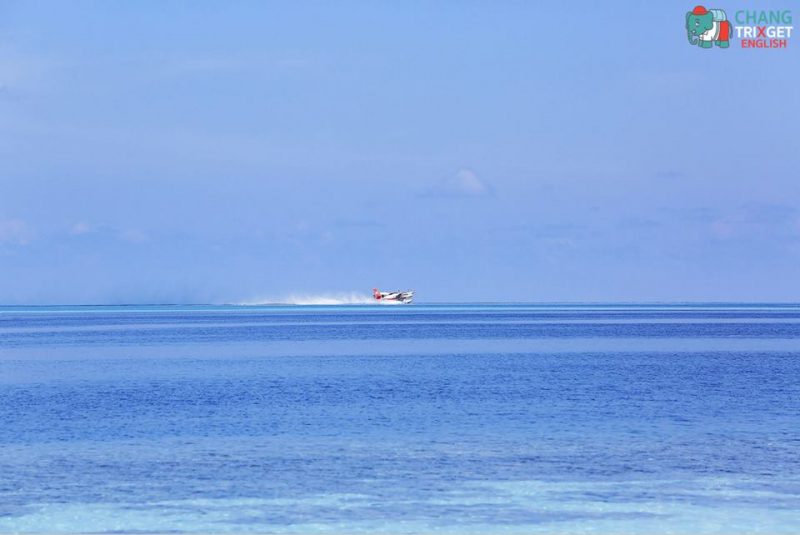 :Smooth landing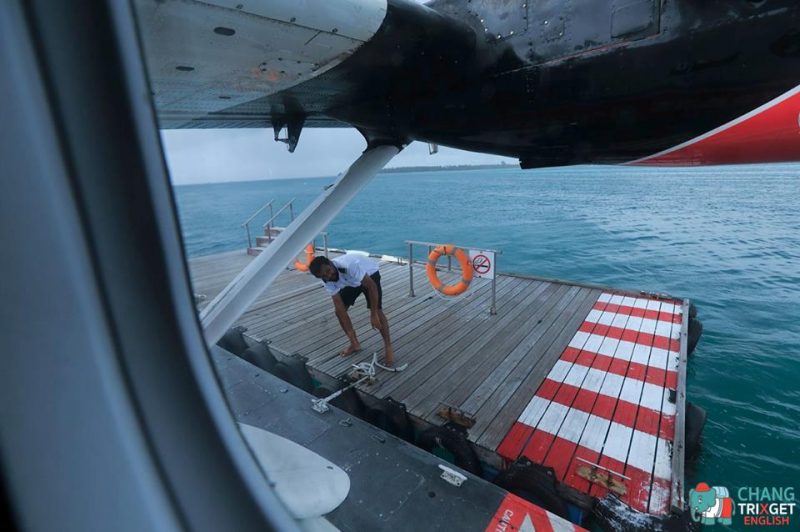 :You have to wait until staff give signal due to in one flight may have many landing time to send passenger at many hotels.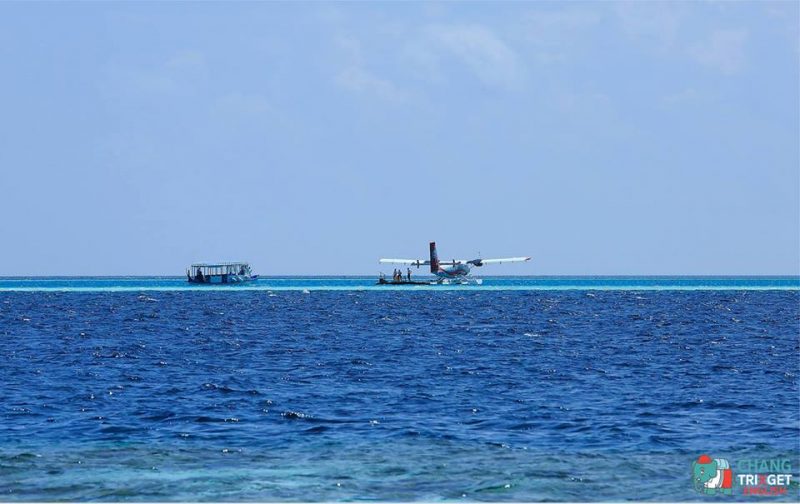 :Boat from hotel will go to pick up you at landing point, our baggage will come with us. Hotel staff will take care for you. You may exchange money 1 – 5 USD in order to give a tip for encouragement to good service.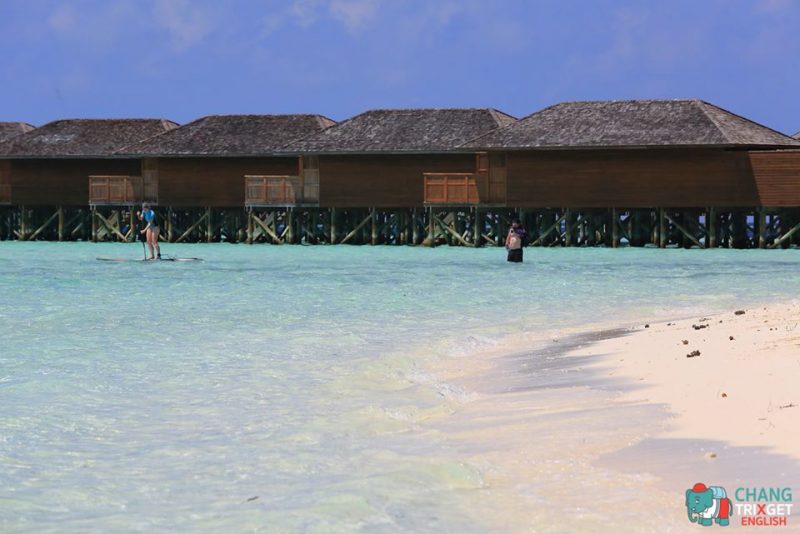 :Clear water 
🌊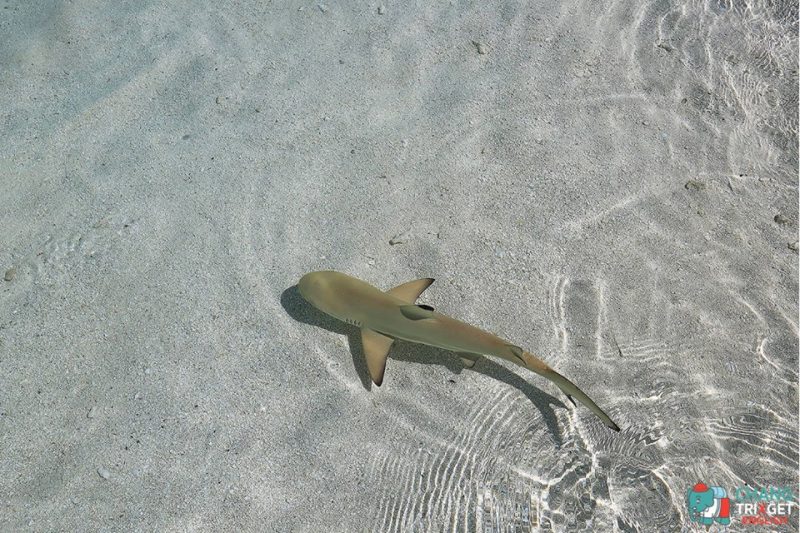 :The blacktip reef shark (Carcharhinus melanopterus) is a species of requiem shark, in the family Carcharhinidae, easily identified by the prominent black tips on its fins (especially on the first dorsal fin and its caudal fin). Among the most abundant sharks inhabiting the tropical coral reefs of the Indian and Pacific Oceans, this species prefers shallow, inshore waters. Its exposed first dorsal fin is a common sight in the region. Most blacktip reef sharks are found over reef ledges and sandy flats, though they have also been known to enter brackish and freshwater environments. This species typically attains a length of 1.6 m (5.2 ft).
cr.wikipedia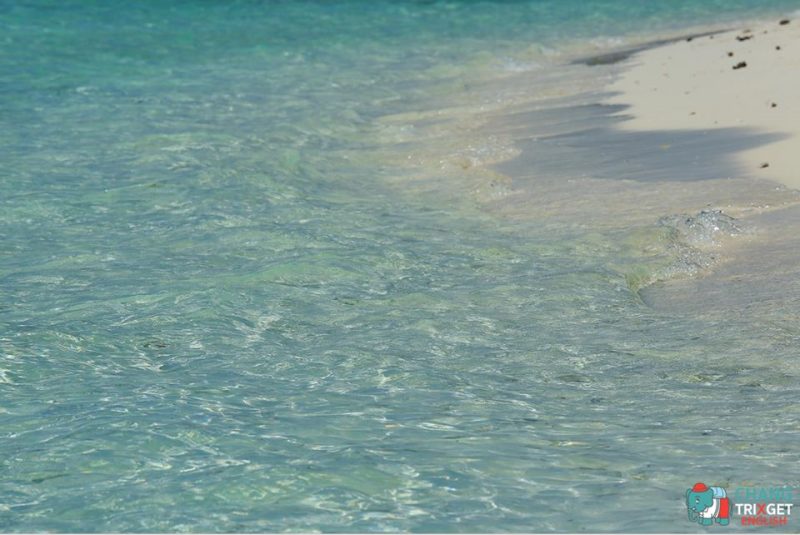 :Maldives Calling You !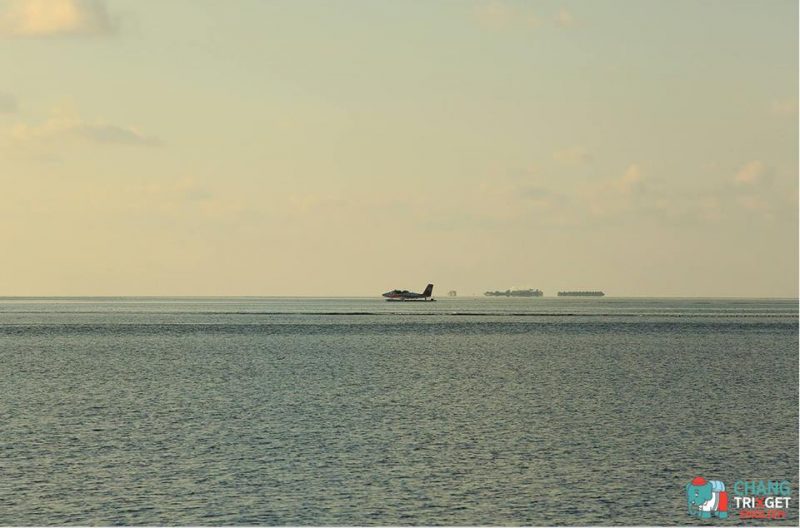 :In each day, it has a lot of flights. So, staff will choose time to return for you follow the return flight or if you need to go back first, you can tell their staff in advance. They will provide the time for you.

You might also like
---
More from GURU
---
สาระดีๆ เตรียมความพร้อมท่องเที่ยว ASIA พี่ช้างนำข้อมูลปลั๊ก เต้ารับและกระแสไฟ ประเทศในทวีปเอเชียพอสังเขปมาแบ่งปันเพื่อนๆครับ ปัจจุบันเครื่องมือสื่อสารหรืออุปกรณ์อิเล็กทรอนิกส์ถือเป็นส่วนสำคัญในการใช้ชีวิตไปแล้ว ซึ่งหนึ่งในปัญหากวนใจของนักเดินทางก็คงหนีไม่พ้นเรื่องปลั๊กไฟครับ ในแต่ละประเทศก็จะใช้ปลั๊กประเภทที่แตกต่างกันไป จะดีกว่ามั้ยถ้าได้เราเตรียมตัวพก Adapter ที่เหมาะสมไปใช้ได้ก่อน 🌎 ปลั๊กไฟและเต้ารับในทวีปเอเชียแบ่งได้เป็น 12 ประเภท ตั้งแต่ TYPE A ,B,C,D,E,F,G,H,I,J,L,M กำหนดมาตรฐานโดย International Electrotechnical Commision TYPE …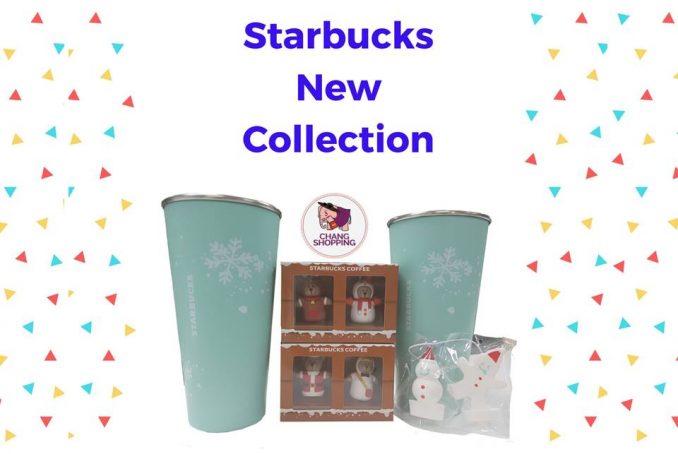 Starbucks ออก Tumbler และ Mug Collection ใหม่ ต้อนรับเทศกาลคริสต์มาสสวย น่ารัก ดูดี มีสไตส์ ต้องรีบไปรับจองก่อนของหมดกันน้า #SHOCK_PRICE #Promotion #จำนวนจำกัด #Online #ช๊อป#ออนไลน์ #shopping #changsphopping #promotions #Sale#NewCollection #Starbucks #Tumbler #Mug #คริสต์มาส#Christmas iPhone 8 Plus 64GB เพียง 24,000.- 🎯 ทางไปสอย …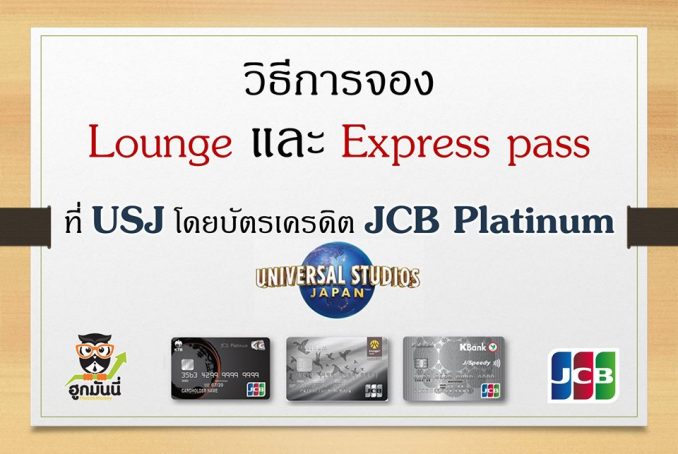 รีวิวจอง Lounge และ Flying dinosaur ที่ Universal studio Japan ด้วยบัตร jcb สวัสดีครับผมมม หลายๆคนอาจจะทราบแล้วว่าบัตร JCB Platinum สามารถจอง Lounge และ Express pass ของ …
Editor Picks
---